Cut Protection Use & Care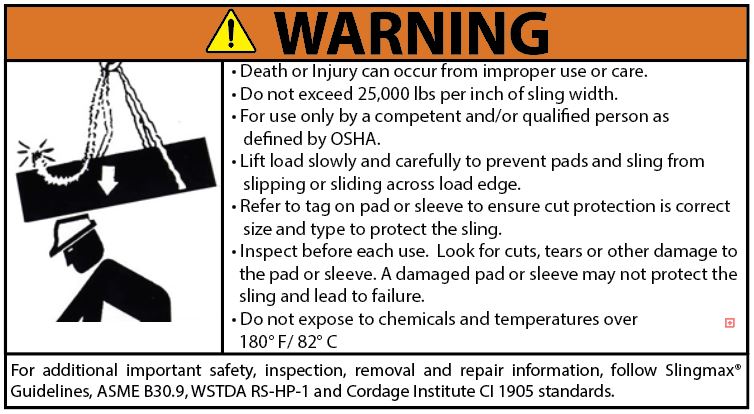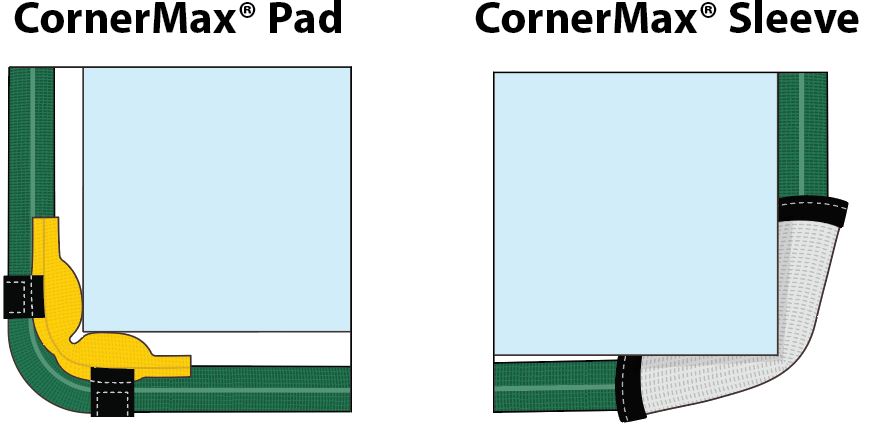 BEFORE EACH USE
⚠️ DEATH or INJURY can occur from improper use or care
1. SLING USERS SHALL BE TRAINED Do not use this pad or sleeve unless you are
properly trained.
2. Read and follow all instructions and warnings in this manual.
3. CornerMax® pads and sleeves are rated for 25,000 lbs per inch of sling width.
No material is cut proof. Check tag on pad or sleeve to conrm that the pad is
adequately rated for the load.
4. Inspect pads or sleeve for damage before each use including:
Missing or unreadable identification tag
Holes, tears, cuts, abrasive wear or snags
Broken stitching or seams
Acid or caustic burns
Weld splatter or heat damage
Any other condition, including visible damage, that causes doubt as to
the continued use of the pad
⚠️ IF ANY OF THESE CONDITIONS ARE DETECTED – REMOVE FROM SERVICE
IMMEDIATELY.
⚠️ NEVER USE A DAMAGED PAD OR SLEEVE. A DAMAGED PAD OR SLEEVE MAY
NOT PROTECT THE SLING AND LEAD TO FAILURE.
INSPECTION FREQUENCIES
All slings and rigging shall be inspected before each use.
Documented periodic inspections of the pad or sleeve shall be completed at
least annually or more frequently depending on service.
Refer to ASME B30.9 and / or contact manufacturer for
recommendations for guidance on service intervals.
USE
1. Select the appropriate sling and rigging. Only use CornerMax® Sleeves and Pads with synthetic slings.
⚠️ DO NOT USE WITH WIRE ROPE OR CHAIN SLINGS. USE WITH OTHER TYPES OF RIGGING IS PROHIBITED AND CAN LEAD TO FAILURE OF THE SLEEVE/PAD AND/OR RIGGING.
• Refer to manuals and instructions of selected rigging for proper use.
2. Position the pads correctly on the load.
⚠️ ENSURE PADS AND SLEEVES MAKE CONTACT WITH TWO LOAD EDGES.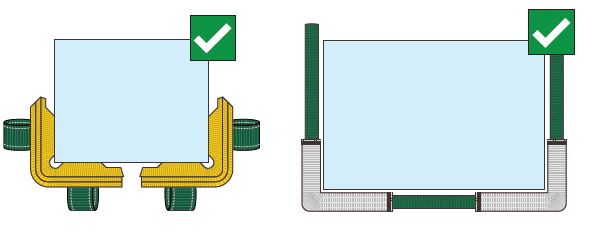 3. CornerMax® Pad must be used in pairs.
4. CornerMax® Pads must be used at a 90° degree angle and make full contact on both sides to create a separation between the edge of the load and the sling.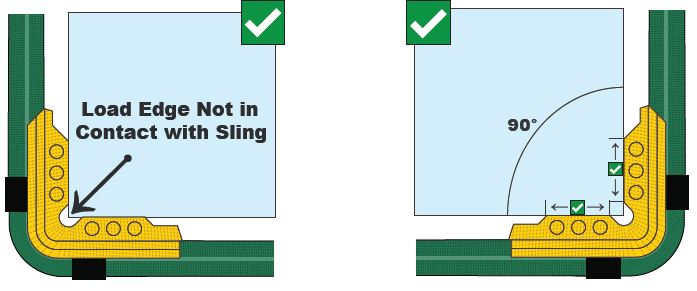 ⚠️ Do not allow load edge to make contact with the CornerMax® Pad.
5. CornerMax® Sleeves are versatile and can be used on any angled edge or surface.

⚠️ To ensure full contact do not use CornerMax® Pads on curved surfaces. Use Cornermax Sleeve Instead.
⚠️ Ensure sling is not too wide for the pad being used to avoid sling from contacting edge.
⚠️ To prevent sling damage ensure all edges are protected. This can include edges at the top of the object being lifted.
⚠️ Materials that are hardened or have a Rockwell C hardness above 35 may reduce effective protection for the CornerMax® Sleeve. Consult Slingmax before using above this hardness.
⚠️ To prevent damage to the pad, sleeve, and/or sling do not expose to chemicals and/or temperatures above 180°F/82°C.
6. Apply the load carefully and slowly, ensuring the sling and pads and/or sleeves are oriented correctly. You may need to perform this several times to ensure the CornerMax® Pad and Sleeve are not being damaged.
⚠️ Keep hands clear when the sling is being tightened.
⚠️ To prevent cutting do not allow the sling, pads or sleeves to slide across edges while under load.
⚠️ BE CAREFUL WHILE USING HIGH STRETCH SLINGS, SUCH AS NYLON OR POLYESTER, BECAUSE THEY ARE MORE SUSCEPTIBLE TO CUTTING.
⚠️ Stay clear of load at all times!
⚠️ STOP THE LIFT IMMEDIATELY IF THE LOAD DOES NOT LIFT EVENLY, THE PADS AND / OR SLEEVES SHIFT, OR ANY OTHER OBSERVED FAILURE OF THE RIGGING IS DETECTED.
CARE
When storing CornerMax® Pads and Sleeves prevent contact with possible mechanical damage, corrosion, dust, grit or extreme temperatures. To clean: use mild soap and water and allow to air dry before storing. Do not machine wash or dry, to avoid damaging the pad or sleeve.
REPAIR
CornerMax® Pads and Sleeves cannot be repaired. Immediately dispose of damaged pads and sleeves
DISPOSAL
Before disposing of CornerMax® Pads and Sleeves, they shall be marked of destroyed to prevent inadvertent use. Waste shall be disposed of in accordance with national and local
regulations.
TRAINING & RESOURCES
Per ASME B30.9 & OSHA Sling users shall be trained. Qualifying persons performing rigging functions shall meet the applicable criteria and shall, through education, training, experience, skill, and physical ability, as necessary, be competent and capable to perform the job. Rigging training is widely available through your local Slingmax® Dealer.
For training information please contact your local Slingmax® Dealer or visit www.slingmax.com
ASSOCIATIONS
For additional information on the safe use, inspection, and training requirements, please consult the standards and reference items below:
• WSTDA-RS-1HP
• ASME B30.9
• CI 1905
• OSHA 29 CFR, 1910.184
• Slingmax® Rigging Handbook
• Slingmax® Smartphone App