K-SPEC® core yarn strength retention is based on test results of components at 65°C/150°F (or less) for 6 months. K-SPEC® has a 100% strength retention when exposed to: age, 10% detergent solution, rot and mildew, sunlight and toluene; 99% strength retention when exposed to: acetic acid, gasoline, hydrochloric acid 1m, hydraulic fluid, kerosene, and sea water; 98% retention when exposed to: 25% ammonium hydroxide, 10% hypophosphite solution, and 40% phosphoric acid; 97% retention when exposed to 5m sodium hydroxide; 95% retention when exposed to Portland cement and sulfuric acid; and 88% retention when exposed to Clorox bleach, and nitric acid.
Fiber Properties

Nylon

Polyester

Aramid

Poly-Arylate (Liquid Crystal)

UHMviPE

K-Spec® fiber

Fiber Properties

Tenacity -dry g/d

Elongation at break %

Moisture Regain %

Specific Gravity

7.5 - 10.5

15 - 28

4.0 - 6.0

1.14

7.0 - 10.0

12-18

<0.5

1.38

28

4.6

2

1:38

26 - 29

3.8

<0.10

1.41

35 - 40

3.5 - 3.80

0

.97

35

3.8

0

1.11

Chemical Resistance

Solvents

Dilute Acids:
Conc Acids:

Dilute Alkalis:
Conc Alkalis:

Good

Good
Fair

Excel
Excel

Good

Good
Fair

Good
Fair

Excel

Good
Good

Good
Good

Excel

Excel
<90%

Excel
<30%

Excel

Excel
Excel

Excel
Excel

Excel

Excel
Excel

Excel
Excel

Temperature Tolerance

Melt Point
425°F
218°C
490°F
254°C
900°F
482°C
625°F
329°C
300°F
149°C
320°F
160°C
Fill out the form below to download a digital copy of our 2020 Rigging Handbook.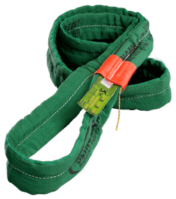 Slingmax has been a trusted supplier of high performance synthetic roundslings to the industrial and heavy lifting markets since 1986. Think Twin-Path® slings for all your heavy lifting and rigging needs.

The Equalizer Block is used to maintain tension on all legs of the sling during a lift. The Equalizer Block will automatically adjust itself when tension is put on the device from the sling. This was designed specifically for Twin-Path® Extra Slings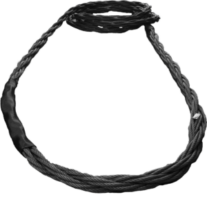 Slingmax multi-part wire rope slings are designed for increased capacity and excellent flexibility. The three-part Tri-Flex, nine-part Gator-Laid, and nine-part Gator-Flex grommet have excellent D/d ratios and can be fabricated in shorter lengths.