The hydraulic Pad Eye Tester is a lightweight and portable tool for testing pad eyes and lifting lugs and eye bolts. It can be used upright, inverted, or in a horizontal plane. Models are available up to 100 short ton proof test capability and are equipped with an adjustable clevis height and large dial capacity read out. Aluminum housing on 10, 20, and 30 short ton models.
Read More
---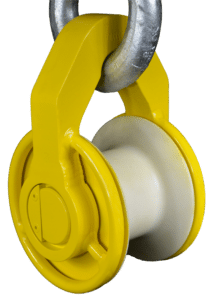 The Equalizer Block is used to maintain tension on all legs of the sling during a lift. Rather than adjusting slings and hooks prior to completing a lift, the Equalizer Block will automatically adjust itself when load is put on the device from the sling. This product was designed specifically for Twin-Path® Extra Slings and is the only rolling block for synthetic roundslings.
Read More
---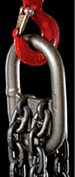 This product gives a chain bridle, length adjustment capabilities in each chain leg. It aids the rigger in placing the lifting point over the center of gravity so the load will lift in a level manner. The Saddle Ring has found favor with millwrights for moving machinery in factories.
Read More