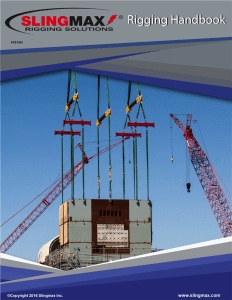 The 2016 Slingmax® Rigging Handbook
A Great pocket reference guide –
for all types of slings, sling hardware, and accessory equipment. The Slingmax® Rigging Handbook has been redesigned for 2016 to ensure that riggers have the most up to date information available. This handbook contains very helpful information on heavy lifting slings as well as recommended  rigging practices. For purchase information please use the Contact Us form.
TABLE OF CONTENTS
Eye Bolts
Adjustable Slings
Synthetic Armor Wear Pads
Blocks
Flat Web Slings
Synthetic Sling Saver Shackles
Booms Pendants
Flemish Eye Slings
Thimbles
Buttons, Ferules
Tri-Flex® Slings
Cable-Laid® Wire Rope Slings
Gator-Flex® Grommets
Turnbuckles
Chain Hoists
Gator-Laid® Slings
Twin-Path® Adjustable Bridle
Electronic Weighing Instruments
Dynamometer
Master Links
Dynamometer Chain Load Binders
Twin-Path® Slings
Chain Saddle Rings
Grommets, Wire Rope
Twin-Path® Sparkeater
Chain Slings
Hand spliced Wire Rope Slings
Wear Pads
Clamps, Plate
Hoist Rings
Web Slings
Clevises
Hooks Swivels
Wedge Sockets
Clips, Wire Rope
Lifting Beams
Wire Mesh Slings
Crane Scales
Loadbinders
Wire Rope Clips
Wire Rope Inspection